Our most spacious cruiser for 4 people with 2 large ensuite double cabins and plenty of space in the saloon and galley.
Longford Class Description
one week *low season price
Outside &
Inside Steering
• Dimensions: 12.9m x 3.8m (42ft x 12.5ft)
• Most spacious boat for 4 people with 2 large double ensuite cabins.
• Bright saloon with convertible double bed and plenty of substantial galley.
• Large Sundeck with table, seating and an additional wash hand basin and fridge.
• Bathing Platform at stern.


For those looking for a bit more space, we are delighted to offer the Longford Class. At nearly 13m long (that's over 42 feet), the 4-berth Longford is bigger than most 6-berth boats with two large double cabins, a lovely big saloon and superb galley.
The forward cabin has a V-berth which can be a very large double bed or twin beds. The cabin has an en-suite bathroom, large wardrobe and a comfortable dressing table. The aft cabin is even larger with a double bed, wardrobe, dressing table and again, an en-suite bathroom. There is also a convertible double bed in the saloon.
The galley, on a slightly lower level than the saloon, is U-shaped with everything close to hand. The saloon is very large for a 4-berth boat and has ample seating and lots of natural light, as well as the inside steering position.
On deck, there is the second outside steering position and plenty of seating for the crew. There is a small wash hand basin and food preparation area on deck.
Aft, there is a bathing platform, always useful for getting in and out of the dinghy.
This is the ideal boat for the discerning visitor looking for more space and comfort.

For cruising in a Longford Class
Find all the areas that offer this model and then choose the waterways cruise of your dreams in Ireland.
the Longford Class you'll also like
the following boats, which are similar in style or size and have similar features. With a wide range of boats available, we are sure to have the perfect one for you and your crew. Do not hesitate to contact us if you need any assistance in choosing your boat.
With a unique cabin layout, this sedan style cruiser is perfect for a family of 4.
The Linssen brings a new level of luxury to the Carrickcraft fleet.
The smallest flybridge boat in the fleet, with inside and outside steering.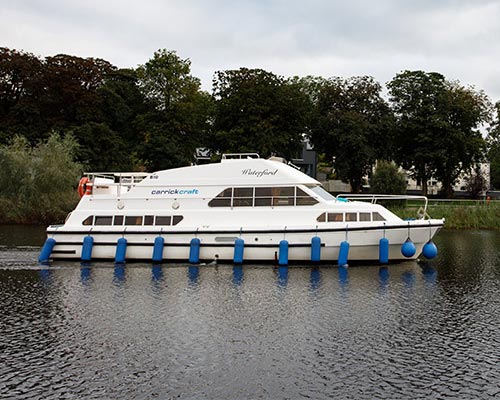 The ideal cruiser for 3 couples or a large family, it's very easily handled by two people.
A very comfortable cruiser for 6 people with 3 large ensuite cabins & a substantial galley.
The largest boat in our fleet. Spacious, comfortable and can sleep up to 12 people.
The perfect cruiser for young families with a double cabin and bunk beds.
IF YOU WANT TO BOOK THIS CRUISE
CHECK AVAILABILITY NOW
What tuition is given beforehand?
You can complete the Boat Tutorials at any time prior to arriving at the marina. They provide a lot of information and are great fun too! We also have Boat Demonstration videos for each boat type and this gives you an introduction to the Practical Demonstration you will receive on arrival.
Use our Boat Finder to help you choose the perfect boat for your cruise.
Can I really cruise without any previous experience?
Don't worry – you are in good company. Half of our clients have never been on a boat before, but they soon get to grips with the very simple controls. We will provide all the tuition you need.
Does the boat have an electricity supply?
All electrical services on board eg water, lighting, radio, showers etc. are powered from batteries which are charged from the engine (12V).
We can provide an invertor for small electrical items like mobile phone chargers. Any other electrical items can only be used when moored using shore power. See each boat description for which boats have shore power.