With a unique cabin layout, this sedan style cruiser is perfect for a family of 4.
Wexford Class Description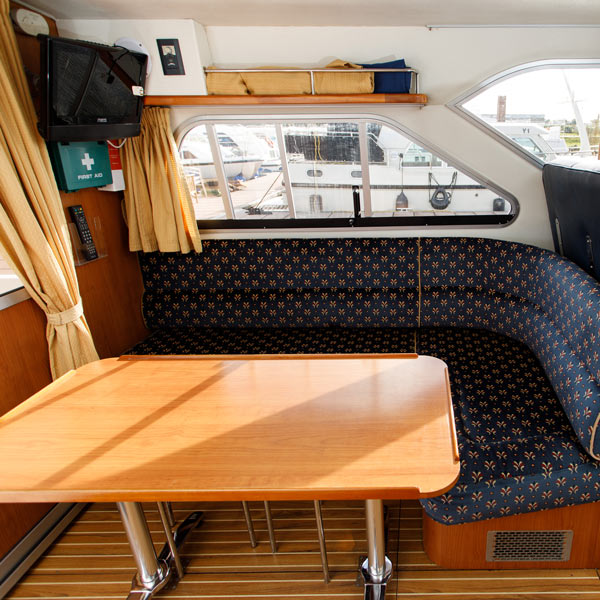 one week *low season price
• Dimensions: 11m x 3.8m (36ft x 12.6ft)
• Unique forward cabin with island Queen-size double.
• Two side cabins with single bed, wardrobe and bedside shelf.
• Electric toilet and separate shower compartment with heated towel rail.
• Two fridges, one for food and one for drinks.
• Four forward facing seats.

Unique to Carrickcraft, the Wexford Class is a 36ft sedan cruiser with a double cabin forward and two single-bed cabins midships. The island double forward can easily be converted to 2 singles.
Featuring an electric toilet, separate power shower, 2 fridges and four forward-facing helm-seats, this is the ultimate cruiser for a family of four, or for four single people.
The saloon can also be converted to a double bed.
The boat is powered by a quiet Nanni diesel engine, and is easily handled by 2 or 3 people – a powerful bowthruster is fitted as standard.
The boat has full central heating with heated towel rail in the toilet compartment and demisters to the large front windscreen.

For cruising in a Wexford Class
Find all the areas that offer this model and then choose the waterways cruise of your dreams in Ireland.
the Wexford Class you'll also like
the following boats, which are similar in style or size and have similar features. With a wide range of boats available, we are sure to have the perfect one for you and your crew. Do not hesitate to contact us if you need any assistance in choosing your boat.
Our most spacious cruiser for 4 people with 2 large ensuite double cabins.
The Linssen brings a new level of luxury to the Carrickcraft fleet.
The smallest flybridge boat in the fleet, with inside and outside steering.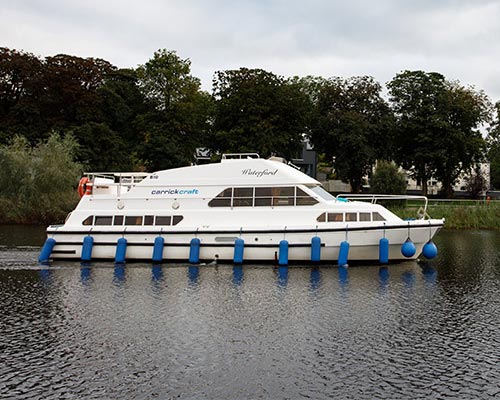 The ideal cruiser for 3 couples or a large family, it's very easily handled by two people.
A very comfortable cruiser for 6 people with 3 large ensuite cabins & a substantial galley.
The largest boat in our fleet. Spacious, comfortable and can sleep up to 12 people.
The perfect cruiser for young families with a double cabin and bunk beds.
IF YOU WANT TO BOOK THIS CRUISE
CHECK AVAILABILITY NOW
What tuition is given beforehand?
You can complete the Boat Tutorials at any time prior to arriving at the marina. They provide a lot of information and are great fun too! We also have Boat Demonstration videos for each boat type and this gives you an introduction to the Practical Demonstration you will receive on arrival.
Use our Boat Finder to help you choose the perfect boat for your cruise.
Can I really cruise without any previous experience?
Don't worry – you are in good company. Half of our clients have never been on a boat before, but they soon get to grips with the very simple controls. We will provide all the tuition you need.
Does the boat have an electricity supply?
All electrical services on board eg water, lighting, radio, showers etc. are powered from batteries which are charged from the engine (12V).
We can provide an invertor for small electrical items like mobile phone chargers. Any other electrical items can only be used when moored using shore power. See each boat description for which boats have shore power.