Die Wave Princess ist ein perfektes Boot für eine kleine Familie und auch beliebt bei Anglern wegen des Achterdeck.
Wave Princess Description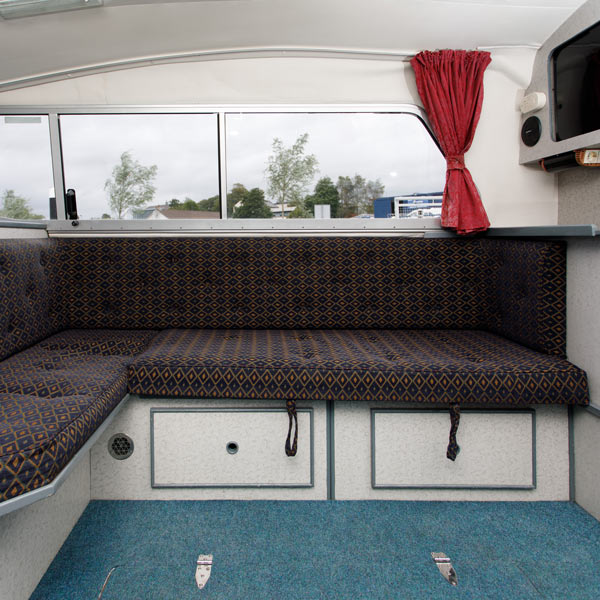 one week *low season price
• Maße: 9.75m x 3.65m (31ft x 11.9ft)
• Die Bugkabine hat zwei Einzelbetten umbaubar zum Doppelbett.
• Die Kabine mittschiffs eignet sich für 1 Erwachsenen oder 2 kleine Kinder.
• Die Couch im Salon kann zum Einzelbett ausgezogen werden.
• Großzügiger Salon, Küche mit 4-Flammen-Gasherd, Backofen/Grill und Kühlschrank.
• Großes Achterdeck geeignet zum Angeln.
Die Wave Princess ist ein perfektes Boot für eine kleine Familie und auch beliebt bei Anglern wegen des Achterdeck.
Die Küchenzeile liegt gegenüber dem geräumigen Salon welcher zum großzügigen Achterdeck führt. Die Bugkabine hat zwei Einzelbetten umbaubar zu einem großen Doppelbett.
Die zweite Kabine hat ein kleineres Doppelbett welches für 2 kleine Kinder geeignet ist.

Mit einer Wave Princess unterwegs
Find all the areas that offer this model and then choose the waterways cruise of your dreams in Ireland.
die Wave Princess gefällt, gefallen Ihnen auch
diese Boote, welche ähnlich in Größe und Ausstattung sind. Mit einer großen Auswahl an Booten, werden Sie das richtige Boot für sich und Ihre Crew finden. Gerne sind wir behilflich, wenn Sie Fragen haben, rufen Sie uns oder schreiben Sie uns eine Email.
Built exclusively for Carrickcraft. A superb cruiser for two couples or a family of four.
One of our larger boats, the Fermanagh class is ideal for the larger group or for 2 families.
A popular boat with anglers due to the large aft cockpit. Also ideal for couples.
This mid-size flybridge boat is flooded with light. Ideal for families or groups.
The largest flybridge boat, it has one of the biggest galleys and a large separate saloon.
A fine cruiser for a family or a large group, the Wave Queen is perfect for 5 people.
The perfect boat for a couple. The raised saloon allows you to take in the sights.
The ideal boat for a couple, the most luxurious 2 berth boat.
IF YOU WANT TO BOOK THIS CRUISE
CHECK AVAILABILITY NOW
What tuition is given beforehand?
You can complete the Boat Tutorials at any time prior to arriving at the marina. They provide a lot of information and are great fun too! We also have Boat Demonstration videos for each boat type and this gives you an introduction to the Practical Demonstration you will receive on arrival.
Use our Boat Finder to help you choose the perfect boat for your cruise.
Can I really cruise without any previous experience?
Don't worry – you are in good company. Half of our clients have never been on a boat before, but they soon get to grips with the very simple controls. We will provide all the tuition you need.
Does the boat have an electricity supply?
All electrical services on board eg water, lighting, radio, showers etc. are powered from batteries which are charged from the engine (12V).
We can provide an invertor for small electrical items like mobile phone chargers. Any other electrical items can only be used when moored using shore power. See each boat description for which boats have shore power.