Ein sehr komfortables Boot mit viel Platz für 4 Personen. Zwei Doppelbettkabinen, jeweils mit eigenem Badezimmer.
one week *low season price
• Maße : 12.9m x 3.8m (42ft x 12.5ft)
• Ein sehr komfortables Boot mit viel Platz für 4 Personen, zwei große Doppelbettkabinen mit jeweils eigenem Badezimmer
• Heller, lichtdurchfluteter Salon mit einer großzügigen Küche mit 220 V Landstrom und Haarfön
• Sonnendeck mit Tisch, Sitzgelegenheiten, Handwaschbecken, und Kühlschrank
• Badeplattform


Beschreibung der Longford
Wenn Sie ein bisschen mehr Platz möchten, dann können wir Ihnen unsere Longford empfehlen. Mit beinahe 13 m (etwas über 42ft) ist unsere Longford größer als die meisten 6-Bett-Boote. Mit zwei großen Doppelbettkabinen, eine großzügige Küche und ein geräumiger Salon mit einer Sitzecke umbaubar zum Doppelbett. Die Bugkabine ist mit einem V-Bett ausgestattet, welches man als ein großes Doppelbett oder zwei Einzelbetten nutzen kann. Ein eigenes Bad mit Dusche, Waschbecken und Toilette sowie einem Schminktisch in der Bugkabine bieten viel Platz. Die Heckkabine ist sogar noch etwas größer, mit Doppelbett, Kleiderschrank und Schminktisch, sowie eigenem Bad mit Dusche, Waschbecken und Toilette.
Die Küche, getrennt durch eine Stufe zum Salon, ist sehr großzügig und praktisch eingerichtet. Der Salon ist sehr groß für ein 4-Betten Boot mit großzügiger Sitzecke, umbaubar zum Doppelbett, viel Licht und integriertem Innensteuerstand.
Am Oberdeck befindet sich der Aussensteuerstand und Sitzgelegenheiten für alle, sowie ein Waschbecken, Kühlschrank und Platz zur Zubereitung kleiner Snacks.
Am Heck gibt es eine Badeplattform, die das Ein- und Aussteigen in das Beiboot erleichtert.
Das ideale Boot für anspruchsvolle Kunden, die ein komfortables, mit viel Platz, Boot sich wünschen.

Mit der Longford unterwegs
Find all the areas that offer this model and then choose the waterways cruise of your dreams in Ireland.
die Longford gefällt, gefallen Ihnen auch
diese Boote, welche ähnlich in Größe und Ausstattung sind. Mit einer großen Auswahl an Booten, werden Sie das richtige Boot für sich und Ihre Crew finden. Gerne sind behilflich, wenn Sie Fragen haben, rufen Sie uns oder schreiben Sie uns eine Email.
With a unique cabin layout, this sedan style cruiser is perfect for a family of 4.
The Linssen brings a new level of luxury to the Carrickcraft fleet.
The smallest flybridge boat in the fleet, with inside and outside steering.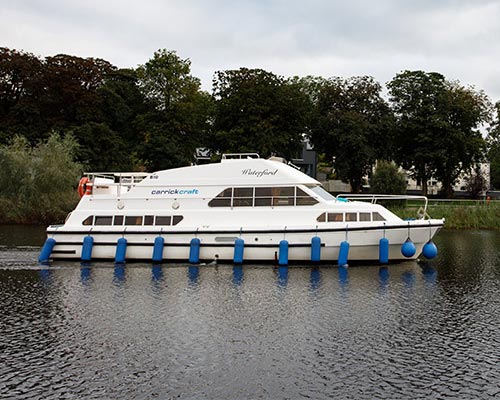 The ideal cruiser for 3 couples or a large family, it's very easily handled by two people.
A very comfortable cruiser for 6 people with 3 large ensuite cabins & a substantial galley.
The largest boat in our fleet. Spacious, comfortable and can sleep up to 12 people.
The perfect cruiser for young families with a double cabin and bunk beds.
IF YOU WANT TO BOOK THIS CRUISE
CHECK AVAILABILITY NOW
What tuition is given beforehand?
You can complete the Boat Tutorials at any time prior to arriving at the marina. They provide a lot of information and are great fun too! We also have Boat Demonstration videos for each boat type and this gives you an introduction to the Practical Demonstration you will receive on arrival.
Use our Boat Finder to help you choose the perfect boat for your cruise.
Can I really cruise without any previous experience?
Don't worry – you are in good company. Half of our clients have never been on a boat before, but they soon get to grips with the very simple controls. We will provide all the tuition you need.
Does the boat have an electricity supply?
All electrical services on board eg water, lighting, radio, showers etc. are powered from batteries which are charged from the engine (12V).
We can provide an invertor for small electrical items like mobile phone chargers. Any other electrical items can only be used when moored using shore power. See each boat description for which boats have shore power.