Wenn Sie Fragen bezüglich einer Bootsmiete haben, rufen Sie uns an oder schreiben Sie uns eine Email, wir sind Ihnen bei der Suche gerne behilflich.
A very comfortable cruiser for 6 people with 3 large ensuite cabins & a substantial galley.
The largest boat in our fleet. Spacious, comfortable and can sleep up to 12 people.
The smallest flybridge boat in the fleet, with inside and outside steering.
Our most spacious cruiser for 4 people with 2 large ensuite double cabins.
The Linssen brings a new level of luxury to the Carrickcraft fleet.
The perfect cruiser for young families with a double cabin and bunk beds.
With a unique cabin layout, this sedan style cruiser is perfect for a family of 4.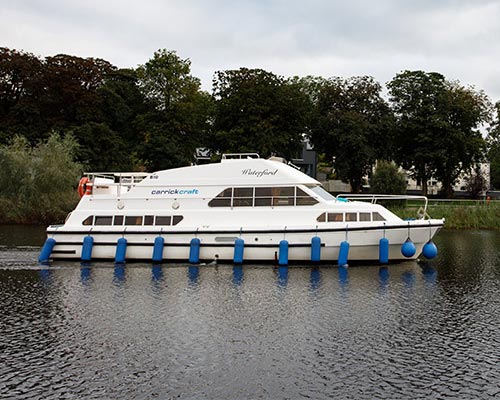 The ideal cruiser for 3 couples or a large family, it's very easily handled by two people.
Mit unseren Premium Boote befahren Sie die irischen Gewässer mit höchstmöglichem Komfort. Alle Premium Boote sind mit Landstrom, elektrischen Toiletten, DVD und eingebautem Haarfön ausgestattet. Alle Premium Boote verfügen für einfacheres Manövrieren über ein Bugstrahlruder, einige Bootstypen auch über ein Heckstrahlruder.
Unser Flaggschiff Roscommon ist ein beindruckendes 10+2 Bett-Premium Boot, mit einer modernen Ausstattung, die den Bootsurlaub zu einem unvergesslichen Urlaub macht.
Unsere Linssen 34.9/35.0 AC Stahlboote, gebaut in Holland, bieten höchsten Komfort und eine Ausstattung, wie man sie sonst nur auf privaten Booten findet. Ideal für 2 Paare.
Anspruchsvollere Kunden werden ihr Boot sicher in der Kategorie Premium finden.
HABEN SIE IHR WUNSCHBOOT GEFUNDEN?
Boote in allen Preisklassen
Wählen Sie ein Boot aus unserem Angebot der verschiedenen Bootstypen aus. Wenn Sie Fragen bezüglich Bootstyp, Größe etc. haben, kontaktieren Sie uns, wir sind Ihnen bei der Suche gerne behilflich.
WIE FINDE ICH DAS RICHTIGE BOOT?
Carrickcraft hat über 50 Jahre Erfahrung mit Bootsurlaub in IRLAND. Wenn Sie ein Boot von Carrickcraft buchen werden Sie von leidenschaftlich engarierten, erfahrenen Mitarbeitern umsorgt, die sicherstellen, daß Sie einen wunderschönen Urlaub auf den irischen Gewässern verbringen.